Crypto ETP's... The struggle is real.
"We don't have an analytical advantage, we just look in the right place."
– Seth Klarman
---
For as long as I can remember, the crypto ecosystem has been hell-bent on getting the nod of approval from global regulators for Exchange Traded Products (ETP's), generally in the form of seeking approval for an ETF.
It's clear why this has been an important proposition.
For your average mum and dad or HNW investor, buying and securely storing large sums of Bitcoin shares similar traits to brain surgery.
For us we think it's simple right?
Just KYC with an unregulated exchange > transfer a limited amount of Fiat > activate 2FA > Buy BTC (don't buy the wrong Bitcoin) > buy a hardware wallet > store your seedphrase > transfer to your hardware wallet.. then perform the exact same process in reverse to sell…
Simple right :|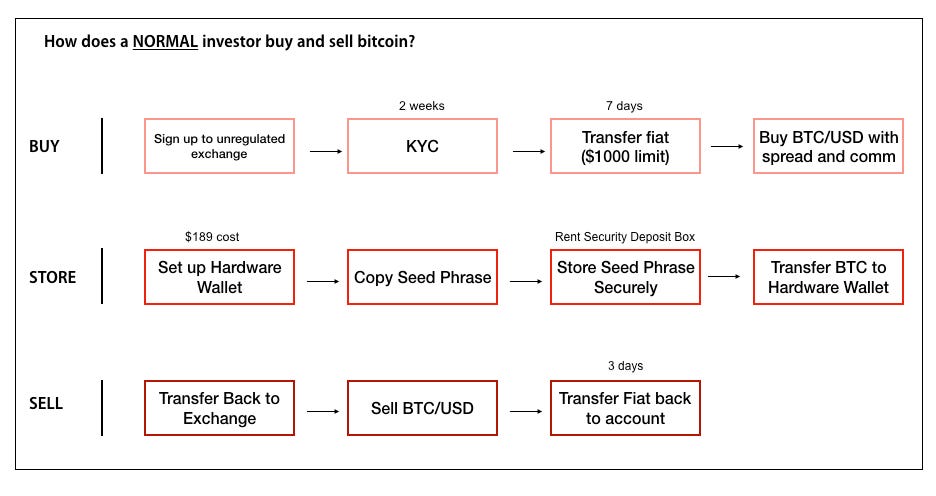 Not everyone is a Cypherpunk.
Speculators are speculators. They don't care about owning physical Bitcoin or the impending armageddon of the global financial system. They simply want to buy something that is regulated with oversight and feel safe knowing someone is taking care of the rest. Hopefully one day, they make some money on it..
This is what makes the current state of passive listed crypto products all the more painful.
In this issue of Dark Pools, we look at the sad state of 3 ETP's in the global market.
1. The Bitwise ETF got killed by the SEC yesterday
It's as if the SEC got tired of rejecting crypto ETF's yesterday and instead delivered a massive nail in the coffin to Bitwise and any other company that was even contemplating doing the same.
In a 112 page report (a very good read), the SEC focused a large part of their disapproval on the fact that they don't trust the Bitcoin spot market, and for that reason, cannot reasonably be convinced that an exchange traded product would not be subject to manipulation from the underlying.
"the Commission does not agree that the relative fungibility of an asset makes it inherently resistant to manipulation and notes that fungible assets, such as securities and exchange-traded derivatives, trade subject to substantial regulatory oversight and surveillance-sharing agreements that would be unnecessary if fungibility were sufficient protection against manipulation."
If anything, it's our view that this very extensive response from the SEC is to make prospective companies aware that an ETF for the US is not on the cards anytime soon.
2. Coinshares at risk of getting their ETN shutdown by the FCA
The FCA in the UK have a bone to pick with Coinshares. The company has a listed 'note' on the Swedish Nasdaq with just shy of $1 billion in AUM. The thing is, it's really hard to tell what this $1billion is actually backed by..
You see, when you buy the Coinshares ETN, you aren't actually buying a security that has Bitcoin as the underlying asset. What you are buying is actually a note promising that the obligation/assets will be fulfilled by a counter-party (which seems to be separate and incorporated in Jersey). We're not going to FUD Coinshares because they are having a hard enough time as it is, but going through the counterparty's 2017/2018 public filings, we struggled to match up the numbers ourselves. In any case, their XBT tracker has been around for some time, so we are most likely missing some of the updated information. It's just a really complicated structure to say the least..
In addition to the preceding, the derivative is supposed to synthetically track the Bitcoin price, which creates additional layers of complications for the FCA and their stance.
Essentially, the FCA isn't just attacking Coinshares, but also CFD providers. It would seem that they have a real issue with synthetically tracked and complicated structures that are aimed at retail… maybe rightly so?
Read the FCA Paper here - it's good.
3. Grayscale is still here - but it's not exactly an efficient ETP
We've written about Grayscale in the past so we won't spend a lot of time on this one. Essentially, Grayscale lists its trust several times a year as a close-ended structure. It is notoriously known for:
trading at a massive premium of between 20%-40% of underlying assets

taking most of its subscriptions as 'in-kind' from BTC (not fiat)

not providing any guarantees for redemption
We don't see Grayscale as a real listed product that can be available to the masses, but we have to give them points for trying. It trades around 3m shares per day and they seem to be out of sight from the regulators crosshairs so that seems to be a plus..
---
It's clear that regulators in the West aren't particularly in favor of Bitcoin ETP's. In our view, a regulated retail-focused product is still a bit of a stretch, but the stars are aligning for passive structures that focus on a more sophisticated/accredited market that can handle the risks.
But then again, maybe we are wrong? We sure have seen crazier things happen in this market.
Cheers
Matthew Dibb | CIO
---
About Astronaut Capital
Since 2017, Astronaut Capital has been one of the leading asset-managers for cryptocurrencies and digital assets. Utilizing its internal research team at Picolo Research and STO Rating, Astronaut operates long/short strategies to navigate the market on behalf of investors.
For subscription information about our investment funds, visit www.astronaut.capital or follow us on twitter.
---
Not signed up to Dark Pools?
We do our best to deliver you one mind-bending article a week from the desk at Astronaut Capital.
It's free.
Click below to get added to the list.